Jump to Recipe
We'd been having migas each weekend day for breakfast for a while, so I thought we could mix it up for the long weekend (also, I had only thought to buy two poblanos instead of three).
I scoured the blueprint of the fridge in my brain to come up with suitable ingredients, wishing there was a button with which to dispense asparagus. Alas, this is not Star Trek, so I landed on a simple tomato-basil mix as the featured stars.
I whipped up a quick crust and pressed it into a Pyrex pie pan.
Chop up the tomatoes (these are from Costco) and sprinkle with basil (I threw in some Italian seasoning, too) and salt. Right about now is when I would remember that I should have turned the oven on to 400°.
Place the tomatoes on the crust and crack four eggs into the bowl (don't bother rinsing it out, it's all going to end up in the same place) and whisk with a fork or, the fella's favorite, a French whisk.
Mix the shredded Asiago into the eggs and pour over the tomatoes in the pie pan. Top with a few sliced tomatoes to make it look nice.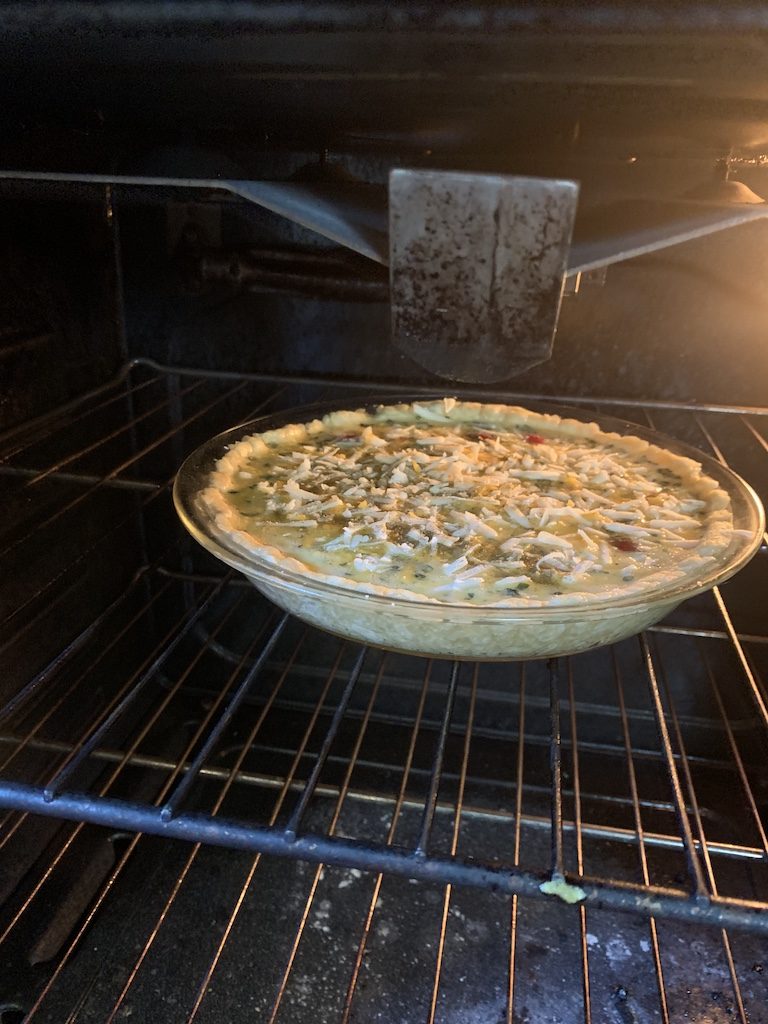 Throw it in the oven for 30 minutes. When the timer beeps, grab a wooden toothpick and poke it into the middle of the egg. If it comes out clean(ish), it's done enough to take out (it will keep cooking a little while it rests). Leave it on the counter for five minutes and then slice and serve!
Mary Berry would have been proud that there was no soggy bottom, but I didn't press it into the pan evenly enough, so it was thicker in the corners. It will come out and taste just as well without the crust if you want to skip that part. That would qualify this as a one-eggplant recipe, then.
Tomato-Basil-Asiago Quiche
This is a quick, throw-together for breakfast or lunch. It takes mere minutes to prepare and you can use any compatible ingredients that you have hanging out in the fridge.
Ingredients
Quick Crust
1

cup

all-purpose flour

1/2

tsp

salt

1/4

cup

olive oil

1/4

cup

ice water
Yummy Quiche
1 1/2

cups

tomatoes

cherry or grape, sliced

2

tsp

basil

dried or chopped

1

tsp

salt

4

eggs

beaten

1/2

cup

Asiago cheese

shredded
Instructions
For the crust:
Mix dry ingredients in a small bowl.

Whisk together oil and water to thicken a bit and pour into dry ingredients.

Mix with a fork until well combined, use your fingers to spread the crust into an ungreased 9" pie plate.
For the quiche:
Clean out the bowl from making the crust and put the chopped tomatoes in there. Mix well with basil and salt. Spread them as evenly as you can over the crust.

Beat the eggs in the same bowl. When sufficiently mixed up, add the cheese and pour gently over the tomatoes and crust. Top with some halved tomatoes for looks.

Bake for 30 minutes. Test the middle with a wooden toothpick, and if it comes out mostly clean, it's ready. Let rest for about 5 minutes, slice and serve.