---
Jump to Recipe
---
We've been trying Imperfect Foods for a couple of months now and I've found it to be convenient and I like seeing what the "imperfections" are and then getting mad that people don't know that misshapen sweet potatoes taste exactly the same as regular ones. It can be a bit of a game, too, figuring out the savings over Woodman's since there's a shipping cost involved. Anyhoo, that link up there will get us both $10 off if you sign up.
Why did I tell you about that? Because I had a head of broccoli from Imperfect that needed to be used up and a craving for antioxidants. Weird, I know.
The picture above contains only a few of the actors in this delicious musical. I added garlic powder, turmeric, red pepper flakes, cayenne pepper, a little almond butter, and another carrot (the one looked lonely).
To start, the diced aromatics go into some heated coconut oil until translucent. I then added all of the spices and seasonings, including some agave nectar, along with a tablespoon of that delicious bouillon (the vegetarian style is as good!) along with about a cup of water. This results in the magical concentrate of a germ-killing concoction.
It doesn't look super pretty, but the best things are not.
To this, add a can of coconut milk. I'm not really sure the tastable difference between light and regular, but I had a can of not-light and used it happily. The solids that hang out at the top of the can will melt eventually. I find it looks like a barista trying to make a latte.
Once the seasonings, spices, flavor, and milk are melded together, add the vegetables and bring to a simmer.
After it's got a good simmer goin' on, turn the heat down a bit, cover, and set a 10-minute timer.
Serve, eat, enjoy, relish, share, comfort, be.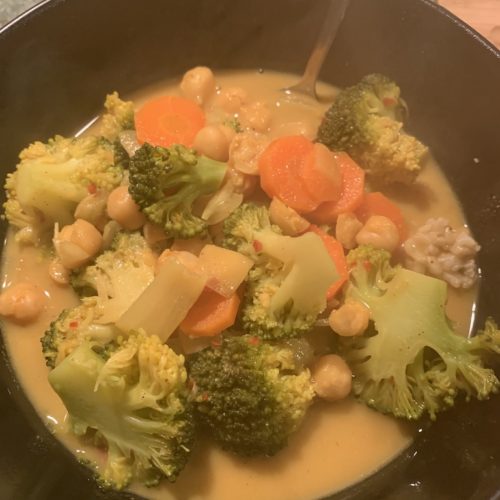 Coconut Curry Veggies
Packed full of germ-fighting spices and vegetables, you'll feel amazing (at least) while eating it!
Ingredients
1

Tbsp

coconut oil

1/2

c

onion

chopped

3

cloves

garlic

minced

1

tsp

ground ginger

1

tsp

garlic powder

1

tsp

turmeric

1

tsp

red pepper flakes

1/2

tsp

cayenne pepper

water

1

Tbsp

Better Than Bouillon

chicken or mushroom

1

Tbsp

curry paste

1

tsp

agave nectar

1

15 oz can

coconut milk

2

c

broccoli florets

2

carrots

cut into coins

1

15 oz can

chickpeas

drained and rinsed
Instructions
Melt the coconut oil over medium and add the onions and garlic when ready. Stir and cook until onions are translucent (about 5 minutes).

Add all of the dry spices, then the bouillon, agave nectar, curry paste, and water. Stir until combined.

Stir in coconut water and the solid cream. Once incorporated, add the broccoli, carrots, and chickpeas. Stir it up and bring to a simmer. Cover and set a 10-minute timer.

Serve over your favorite kind of rice or with naan.